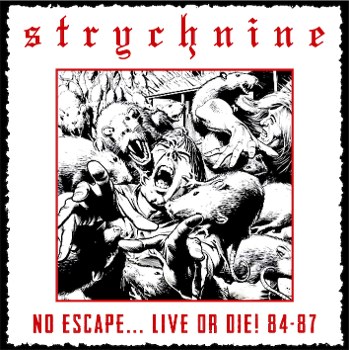 REALM011
STRYCHNINE - NO ESCAPE... LIVE OR DIE! 84-87 CD
Another Heavy Metal chapter from 80s Seattle... we proudly bring you STRYCHNINE "No Escape... Live Or Die! 84-87" CD! Formed in 1981 by the Lamberty brothers, Strychnine is another great example of how prolific the Washington Metal scene was at the time. With two demo tapes recorded, one 7" single released (nowadays, a quite rare and desirable item between record collectors) and a notable participation on the famous 'Metal Meltdown Volume 1' LP compilatio
n, Strychnine delivers a puissant wrecking ball to any US Metal appraiser!

Their early recordings, clearly influenced by Judas Priest's riffage, will definitely please enthusiasts of Ded Engine and early Overkill. With the 1987 'Plug The Plug' demo, Strychnine reached a new level in their sound, playing a more powerful style resembling early Heretic and Lääz Rockit!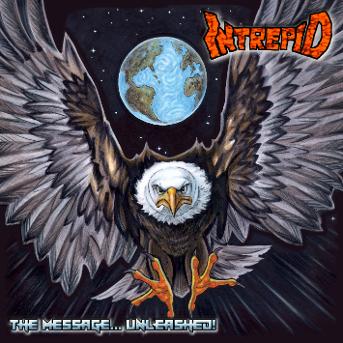 REALM010
INTREPID
THE MESSAGE... UNLEASHED! CD
From Tucson, Arizona... Reaching new heights on the cult US Metal mountain range! Intrepid's 'The Message' demo tape, recorded in 1988, is definitely one of the most desired demos from the metal decade! Since it's discovery, it has been one of the most heard and shared demos, specially within USPM appreciation circles. Officially released now for the first time, in a limited edition 6-page digipack CD, in a total of 13 songs, comprising the 'The Message' demo, plus a live 1988 rehearsal. Prepare yourselves for a piece of p

owerful, neck-breaking, high-pitching US Metal!

A must-have for fans of Liege Lord, Helstar and Bloodlust!
REALM001 (CO-RELEASE WITH BLOOD & IRON RECORDS)
FORCE
DISCOGRAPHY 1981-84 CD
Maryland Doom Metal masters FORCE are finally out! 'Discography 1981-84' CD was planned to be our first official release (REALM001, in partnership with Blood & Iron Records), but due to a series of uncontrolled events, it has been postponed... until now! The CD will comprise the band's recorded material from 1981 to 1984, in a total of 19 songs, available in CD for the first time! Includes a 16-page booklet with songs lyrics and Force biography written by Al Morris III himself. Essential for any Doom Metal fan!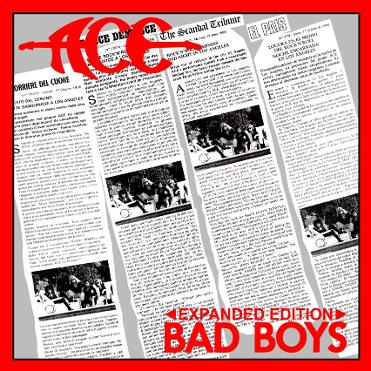 REALM009
ACE - BAD BOYS (EXPANDED EDITION) DCD
Directly from the beautiful Côte d'Azur, it is with great pleasure we announce our latest release: 'Bad Boys - Expanded Edition' DCD, of the glamorous 80s French Heavy Metal band ACE! Prepare yourselves for more than ninety minutes of pure 80s Metal energy! For the first time in CD format, this deluxe edition will contain Ace's debut album 'Bad Boys' with the hit song 'Eat Me Love Me' from the 'Holding On' 7" single, live songs from the reunion concert and also several songs from demo recordings prior to the album. A total of 24 songs from this remarkable band, who rocked the streets of Los Angeles in the late 80s!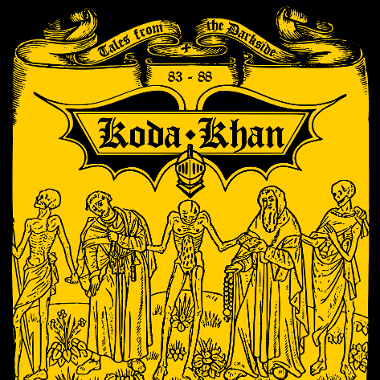 REALM008
KODA KHAN - TALES FROM THE DARKSIDE 83-88 CD
A new US Metal CD release to our ranks, this time one of the most well-kept secrets from the Washington 80s metal scene: KODA KHAN! Formed in 1983, they were one of the earliest heavy metal bands in their hometown Seattle. They have made quite an impact in their local scene at the time, gathering a faithful fan-base, who supported their lofty stage performances: a mixture of introspective heavy metal, with pompous insanity! One of those performances was at the mythical Northwest Metalfest, sided with bands like OVERLORD, SATO and METAL CHURCH! This compilation CD will comprise a total of fifteen songs, re-mastered from original analog sources. A most-have for any obscure US Metal fan!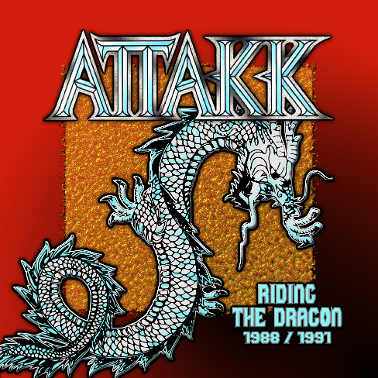 REALM007
ATTAKK - RIDING THE DRAGON 1988 / 1991 CD
LRR are proud to annouce ATTAKK as the chosen band for our seventh release! This cult US Metal band from the late eighties, is now finally available in CD format, with old known songs and some never-heard before! This compilation CD comprises the 1989 self-titled mini-album (
only available in 12" LP until now), three songs of refined Melodic Metal from their 1990 demo, four songs from the 1988 demo (published for the first time,) delivering a straightforward, high-pitching, Power Metal and two songs from the band's last live performance, in 1991. It comes with a 24 page booklet, including a biography written by ATTAKK mastermind, Kuma, lyrics and lots of photos from those glorious days!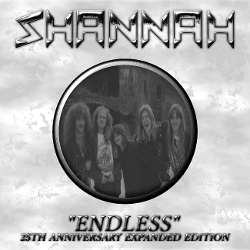 REALM005 (co-release with Blood & Iron Records)
SHANNAH - "ENDLESS" 25TH ANNIVERSARY EXP. EDITION
AXEL guitarist Frank Deroubaix, joined female singer Conny Visschers and formed SHANNAH after AXEL disbanded. Under this moniker, they created a Belgian masterpiece of melodic Heavy Metal with female vocals, through the privately pressed MINI LP "Endless". However, the times were not good anymore for a classic melodic Heavy Metal band. Specially in Belgium. Thrash was already established, Death/Black have taken over and they were too late for the Hair Metal craze (Grunge was in), so the record failed to have any impact. So it's time to make justice to the short SHANNAH legacy and give to the Euro Metal/Melodic Metal fans this gem. This expanded edition besides the very rare MINI LP (which sells usually for high values), also includes the 1993 demo. Released for the first time on CD, it includes a 12 page booklet with band history, lyrics, photos of the band and memorabilia and is remastered by the man himself, Frank Deroubaix.
REALM006 (co-release with Blood & Iron Records)
RAMSES - THE SECRETS OF FAITH IN REBIRTH
After AXEL disbanded in 1991, Stefaan Lambrecht formed RAMSES. In 1993 they have released in a small Belgian label their only album "Faith in Rebirth" impossible to find nowadays. In 1997 they record a few songs to release an EP that never came out since the band finished activity. The 90's were a rough period for any traditional Heavy Metal band, to make even worse they were from Belgium, which at the time was dead, compared to the great Metal scene they had back in the 80s. We think its the right time to bring you collectors of Euro-melodic Metal, the short legacy of Ramses. 12 Page booklet includes lyrics, band history and photos of the band and memorabilia
.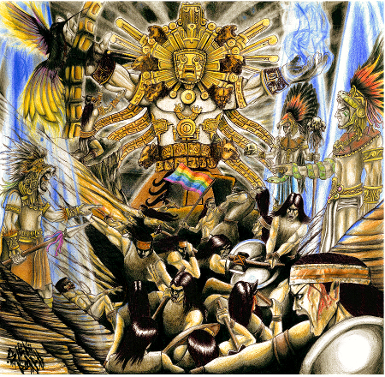 REALM004 (co-release with Blood & Iron Records)
WAKAS - WAKAS 'METAL DE LOS DIOSES' 12" EP
New Peruvian band WAKAS, are a breath of fresh air in the underground Heavy Metal scene, with their mystical dark Heavy Metal sung in their native language. This is their first recording previously released on cassette, issued now on vinyl with exclusive cover art. The lyric content deals with their ancient pre-Hispanic Pagan Inca mythology. Musically they melt influences of Cirith Ungol, Pentagram and local heroes Sentencia.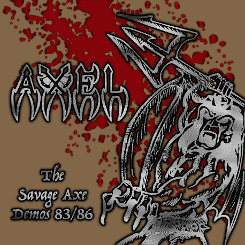 REALM002 (co-release with Blood & Iron Records)
AXEL - THE SAVAGE AXE DEMOS 83/86
Inspired by their idols Kiss, two childhood friends Stefaan Lambrecht (guitar / vocals) and Ben Smeesters (guitar / leadvocals) form the Belgian band Axel. A bunch of songs were written by Stefaan and Ben before drummer Filip Zahirovic and bassplayer Frank Jacobs joined the band.
The first gig in 1982 didn't pass unnoticed, on a local festival they were proclaimed to be the loudest band. The first recordings happened with two new musicians. Lead guitarist Benny Bulté and bassplayer Wim Neirinck joined Axel and the first demo "Attack I" was a fact. March 1984 founding member Ben Smeesters left the band because of personal reasons. A new singer, Jerry Vanschelvergem, came in to record the second demo "Effort II". In 1985 the song "Money" appeared on the compilation album "Speed Metal Hell" by the American record label New Renaissance and was followed by the new demo "We Won't Give Up". In the same year yet another song, "Sweet Burning Angel", appeared on the compilation EP "Metal Power V" on the Dutch Iceman label. The band got very well known in Belgium and Holland through a lot of shows in clubs and local festivals. Unfortunately the singer got some difficulties with his vocal chords by the intensity of gigs, so he had to leave in the summer of 1986. He got replaced by the new lead singer Denis Nagels, this man had a very powerful voice and this led to a more Heavy Metal style of music. In November 1986 they went into a professional studio in Brussels to record 5 new songs (the renowned "24-track" demo). A new musical highlight for Axel that gave them the opportunity for a record deal but the band did split up and no album has ever been released.
Presented in a 12-page booklet with some lyrics, rare pictures and memorabilia, this double CDs compiles all the demos of the first era of the band from the rawer Hard Rock from the first demo to the much refined Heavy Metal in the vein of Ostrogoth of their 86 Demo. A true testimony of the golden era of Belgian Steel!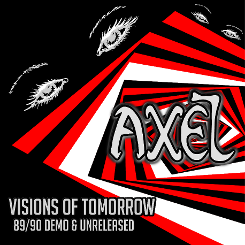 REALM003 (co-release with Blood & Iron Records)
AXEL - VISIONS OF TOMORROW 89/90 DEMO & UNRELEASED
As the original Axel band fell apart in 1987, guitarist and the only remaining original member Stefaan Lambrecht formed a new "Axel". At the end of '87 the band consisted of singer Chris De Grom, drummer Franky Vandenbergh, bassplayer Dominique De Vos, guitarists Frank Deroubaix and Stefaan Lambrecht. This new version of Axel had a more heavy direction and was very energetic on stage. In '88 the band proved to be still alive and kickin' and built a strong live reputation. New material was being written all the time, so Axel was anxious to record these songs in the studio. But not before a new member came into the band.
At the end of '88 drummer Franky Vandenbergh left the band and was replaced by the then 17 year old Peter De Bosschere.
With the help of producer Steef Verwee, six song were recorded in February 1989 for the demo tape "Visions Of Tomorrow". The tape was well received and a small tour through Belgium and Holland followed. But it became clear that not everyone in the band was happy with the musical direction at the time. The last original member Stefaan left the band as the rest of the band wanted to go on. As a quartet the band went into the studio to record a full album with producer Steef Verwee, the songs were there but it was not quite clear under what name.
By then it was the beginning of 1990, the band did a few gigs as "Axel" and went looking for a record company but no deal was ever signed. After some time the stamina and ardour was out of the band and with no one left from the original band it was decided to pull the plug and call it a day. Later it was agreed that Frank Deroubaix could use some of the unreleased Axel recordings for the "Shannah" project but that's another story…
Presented in a 12-page booklet with lyrics and rare pictures, this CD represents the later stage of Axel from the 1989 Demo "Visions of Tomorrow" plus the unreleased 1990 album.