(click on the image to order)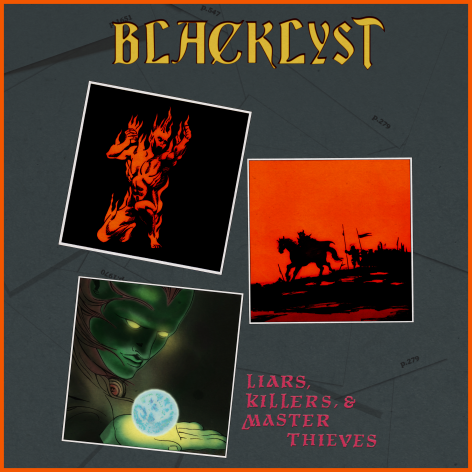 BLACKLYST 'LIARS, KILLERS & MASTER THIEVES' CD
Hailing from Chicago, IL, we bring you BLACKLYST, with their crushing cassette album 'Liars, Killers & Master Thieves'. A well-known cassette album among US Metal enthusiasts, featuring members of Aurora's Metal heroes AMULANCE (lead guitarist Bob Luman and drummer Eric Wedow), BLACKLYST delivers one of the greatest examples of US Power Metal from the early 90's, done the right way: recorded in 1990, but sounding like it was 1987! A magnificent production, with splendid songwriting, full of drive and power, together with top-quality vocals, easily places the 'Liars, Killers & Master Thieves' cassette among the best US Metal tapes ever recorded!

We are thrilled to bring you this CD release! With the help of bassist/vocalist Mark Schwenk, we compiled a total of 14 songs ('Liars, Killers & Master Thieves' cassette + demo songs), together with a 20-page CD booklet, comprising band biography, song lyrics and rare photos. Another deluxe CD edition, as we have accustomed our followers, for this great cassette album, never released in CD before!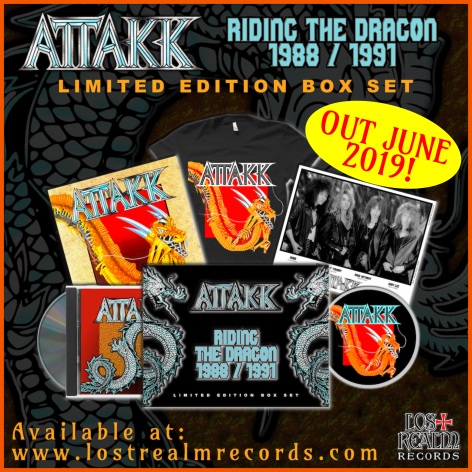 ATTAKK 'RIDING THE DRAGON 1988 / 1991' BOX SET
In 2016, as many of you remember, we had the opportunity to release one of the best mini-albums of the late 80's: the 1989 self-titled mini-album from ATTAKK! In the 'Riding The Dragon 1988/1991' CD we compiled, along with the tremendous 6 songs from the mini-album, the 1988 demo, as well as the 1990 demo, in a total of 14 powerful melodic Heavy Metal songs. Sold out by the end of the same year, and still today with a lot of demand, we decided to make a small repress of 300 copies and, as we have already accustomed our loyal followers, a special edition that will certainly please many of you! The limited edition box set of ATTAKK, will include:

+ Riding The Dragon CD (14 remastered songs, 24-page booklet with band biography, lyrics and rare photos)
+ ATTAKK t-shirt (reprint of the official 80's t-shirt, available in sizes Small, Medium, Large and X-Large
+ Sew-on woven patch
+ A3 poster
+ Band promo-photo

Box set limited to 50 numbered copies. A must-have for all ATTAKK fans and US Metal enthusiasts!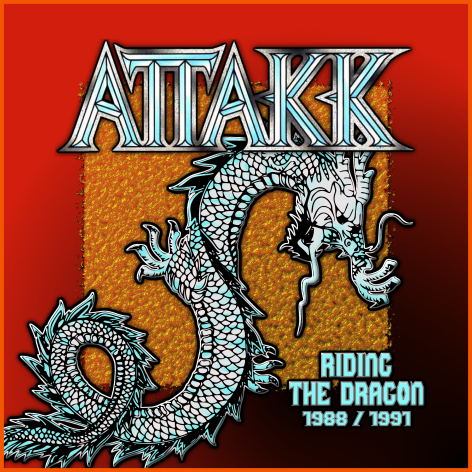 ATTAKK 'RIDING THE DRAGON 1988 / 1991' CD
Lost Realm Records are proud to announce ATTAKK as the chosen band for our seventh release! This cult US Metal band from the late eighties, is now finally available in CD format, with old known songs and some never-heard before! This compilation CD comprises the 1989 self-titled mini-album (only available in 12" LP until now), three songs of refined Melodic Metal from their 1990 demo, four songs from the 1988 demo (released for the first time,) delivering a straightforward, high-pitching, Power Metal and two songs from the band's last live performance, in 1991. It comes with a 24 page booklet, including a biography written by ATTAKK mastermind, Kuma, lyrics and lots of photos from those glorious days!