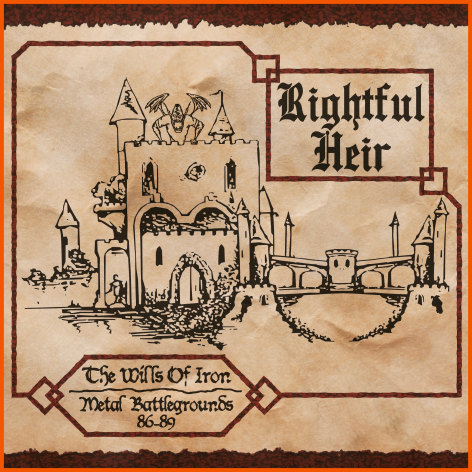 RIGHTFUL HEIR 'THE WILLS OF IRON - METAL BATTLEGROUNDS 86-89' CD
Time to announce another hidden treasure, directly from the realms of lost Heavy Metal! RIGHTFUL HEIR from Ohio can easily represent what 80s-style Medieval Metal is all about! Powerful and enticing songwriting, brightly combined with fantasy and medieval warfare themes, in an addictive Heavy Metal adventure, like the ones we all long for! Together with guitarist and band mastermind Rick Miller, we were able to secure all the band's rare demos for a limited CD edition. With a total of 20 songs, 'THE WILLS OF IRON - METAL BATTLEGROUNDS 86-89' will cover the band's early stages as FURIOUS HATRED, followed by the two RIGHTFUL HEIR rare demos, plus both Rick Miller's band projects after Rightful Heir's demise: MILD PSYCHOSIS and QUEEN OF THE DAMNED! If you are looking for HEATHENS RAGE and OVERLORDE vibes, search no more! Includes a 16-page booklet with songs lyrics, band biography and rare band photos. Dynamic mastering accomplished by Bart Gabriel (CIRITH UNGOL, PAGAN ALTAR, SORTILEGE). Limited to 500 copies.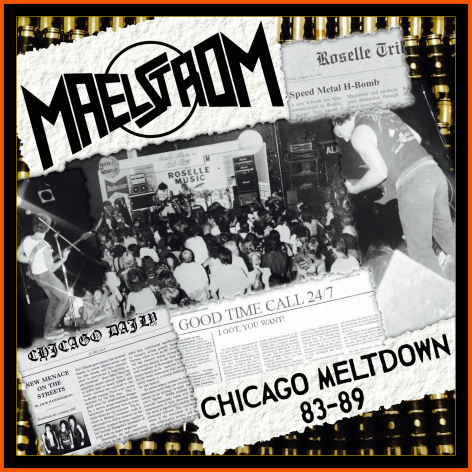 MAELSTROM 'CHICAGO MELTDOWN 83-89' CD
Formed in 1983 by two brothers, Joe and Nick Sanzeri, together with childhood friend Jeff Haske, MAELSTROM has gained some interest in recent years, among 80s Speed fans and Chicago Metal enthusiasts, fueled by their obscure amateur video 'H-Bomb'. Their demo recordings can be considered extremely rare nowadays (web world included), especially their insane 1986 demo 'Hammerhead'. It is with a great delight that we bring all those songs for you, available on CD for the first time! In the 'CHICAGO MELTDOWN 83-89' CD, be prepared for 10 songs of pure Speed Metal madness, with a good amount of early-EXCITER/ABATTOIR vibes: the entire 'Hammerhead' and 'Break Down The Wall' demos, with 2 bonus tracks, including the 'Unleash The Dogs' song, present in the notable compilation LP of Chicago's best bands 'Chicago Metal Works Battalion #1' (SLAUTER XSTROYES, PARADOXX, WAR CRY, etc)! Comes with a 12-page booklet containing the band biography (written by Joe Sanzeri), band photos and song lyrics. Limited to 500 copies.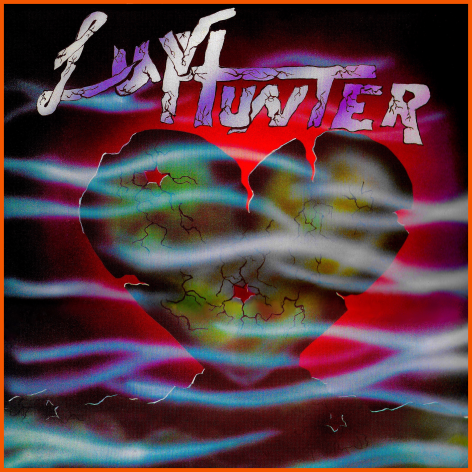 LUV HUNTER 'LUV HUNTER' CD+DVD
As is commonly known, the Heavy Metal world is replete with examples of bands/artists that had everything to reach the peaks of stardom (the music, the attitude, the looks), but for one reason or another, they weren't able to receive the rewards for their hard work. As we advanced into the end of the 80s, the examples are more and more abundant. In that category, we will have to include LUV HUNTER. "How such a tremendous band didn't went big?"… This question roamed our minds during the past months, as we were working on this release. Formed in 1985 in Las Vegas by two friends, Walter Robbins and David Milligan, LUV HUNTER is such a fine example of the best late 80s US Metal had to offer! Don't be fooled by the band moniker, because here you will only find pure Heavy Metal, with lots of power and melodies, that will remind you the best moments of bands like OBSESSION, BANSHEE or LEATHERWOLF! This more-than-deserved CD re-release will comprise the full self-titled album, plus unreleased tracks, in a total of 14 songs of pure metal hysteria! But there is more! The intensity of playing live was an essential part of LUV HUNTER. Because of that, this release will include a DVD with three live performances: 1987 in Las Vegas, 1990 in Tokyo (a never-seen-before footage) and the 2013 reunion, when they were inducted in the Las Vegas 80s Rock Hall of Fame! The 20-page booklet will include the official band biography written by David Milligan, songs lyrics and rare photos! It's definitely a MUST-HAVE for any late US Metal fancier! Limited to 500 copies.